We love a new cultural experience! Discover the collection of art installations, murals, galleries, artist studios, and cultural centers in Delray Beach through the Delray Beach Art Trail. The diverse and exquisite artwork seeks to stir the public imagination and shed light on the city's history.
"The purpose of Delray Beach Art Trail is to prominently share the breadth and depth of artwork and culture that Delray Beach offers, inviting the community and visitors from around the world to discover hidden gems that secure the city's place as a dynamic arts destination in South Florida," said Laura Simon, Executive Director, Delray Beach DDA. Delray Beach is exploding with cultural adventures, now is the time to explore the art scene."
Delray Beach Art Trail is self-guided and free. A QR sign is featured at each location connecting the visitor to www.delrayarttrail.com. The Delray Beach Downtown Development Authority (DDA) created the website to showcase the vast collection of artistic offerings throughout Delray Beach. More than 75 installations, 40+ murals, 35+ art galleries and studios, and eight cultural centers are featured with photos, descriptions, and address.
"We are excited to showcase Delray Beach's range of public and private art to students, artists, community members and visitors, said Marusca Gatto, Downtown Activation Manager, Delray Beach DDA. Whether it's strolling through the First Friday Art Walk, taking a self-guided tour of art murals and installations, or attending an outdoor concert, our constantly evolving art scene provides the perfect destination."
Delray Beach Art Trail
Art Installations
75+ including:
Art CityWide Chair Project, Art in the Alley, Delray Beach Market Art, Endurance Sculpture, Gateway Art, Knowles Knots Sculpture, IPIC Installations, LGBTQIA+ Pride Streetscape Art Installation, Mosaic Ocean Life Fountain, Pineapple Grove Sculptures, "SEED" Sculpture, South County Courthouse, Worthing Park DeBilzan Sculptures.
Murals
40+ public and privately commissioned
Unique and colorful wall art murals, enhancing the beauty of our buildings and enriching the cultural fabric of our arts community. Locations include restaurants, small businesses, garages, and city facilities.
Galleries and Artist Studios
35+ galleries and studios
Vibrant and unique throughout Delray Beach.
Cultural Centers
8 - art, historic, educational centers, and performance venues
Engage through art exhibitions, educational programs, historic preservation, and exceptional live entertainment at Arts Garage, Arts Warehouse, Cornell Art Museum & Old School Square, Delray Beach Children's Garden, Delray Beach Historical Society, Delray Beach Public Library, Sandoway Discovery Center, Spady Cultural Heritage Museum
Curated for viewing in person or online at www.DelrayArtTrail.com.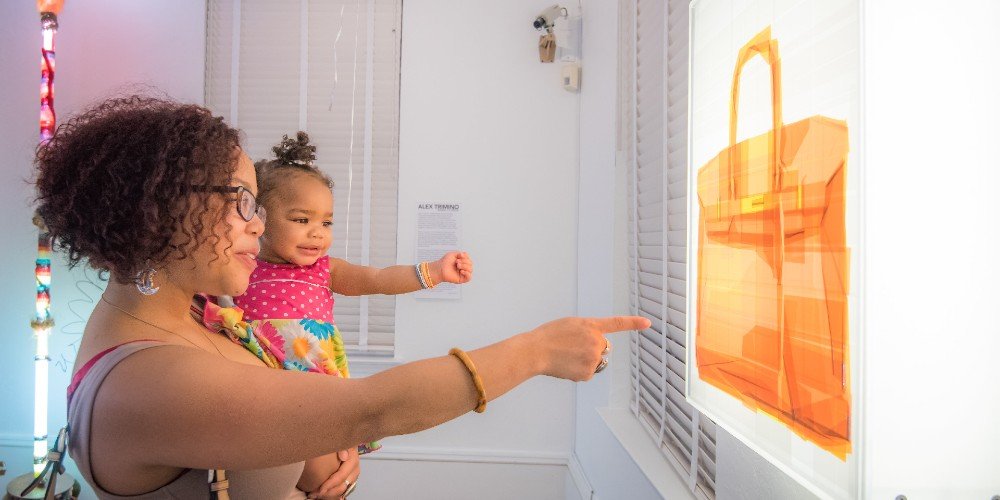 With all that and more to see, the art galleries and working artist studios have resumed their self-guided experience "First Friday Art Walk." Join the fun Friday, October 1, 2021, from 6 p.m. – 9 p.m. and continues each month through May in downtown Delray Beach. Enjoy an evening of strolling and discovering the vibrant art scene throughout the galleries, studios, and shops that embody this award-winning arts town. The downtown Delray Beach Arts District includes Artists Alley (corner of NE 3rd St. & "Artists Alley" between NE 3rd Ave & NE 4th Ave), Pineapple Grove (NE 2nd Avenue), Atlantic Avenue and West Atlantic Avenue. This is a FREE event just show up and start wherever you'd like! For First Friday Art Walk specials, participating Artists and galleries and the brochure, please visit www.downtowndelraybeach.com/artwalk.