World-renowned artist Romero Britto shares artistic talent with St. Jude Children's Research Hospital for Inspiration4 mission
By: CultureOwl
|
10/11/2021
|
Visual Arts
This September, in honor of Childhood Cancer Awareness Month, world-renowned artist Romero Britto will lend his talents to support St. Jude Children's Research Hospital® and its fundraising efforts behind Inspiration4, the world's first all-civilian mission to orbit.
Britto will participate in several in-person and virtual activities to raise awareness and support for the lifesaving mission of St. Jude: Finding cures. Saving children.®
With his artistic talent and generous spirit, Britto is sure to bring color and vision to Inspiration4 events in the coming weeks. Britto's support will include:
· Sketching blank coloring pages for the Inspiration4 crew to bring to life in space. The crew's art pages will be auctioned off to benefit St. Jude after the space mission.
· Designing a t-shirt that will be unveiled at an event benefitting St. Jude after the Inspiration4 crew returns from space.
· Finishing an original art piece live during a private dinner surrounded by vintage planes in a hangar in Cape Canaveral, Florida, on Sept. 14 were auctioned off on CharityBuzz.
· Hosting a virtual art party with a member of the Inspiration4 crew and a lucky auction winner.
In honor of Inspiration4, Britto will also donate a portion of the sale from two original art NFTs, a type of digital asset designed to show ownership of a unique virtual item, that will be auctioned to support St. Jude.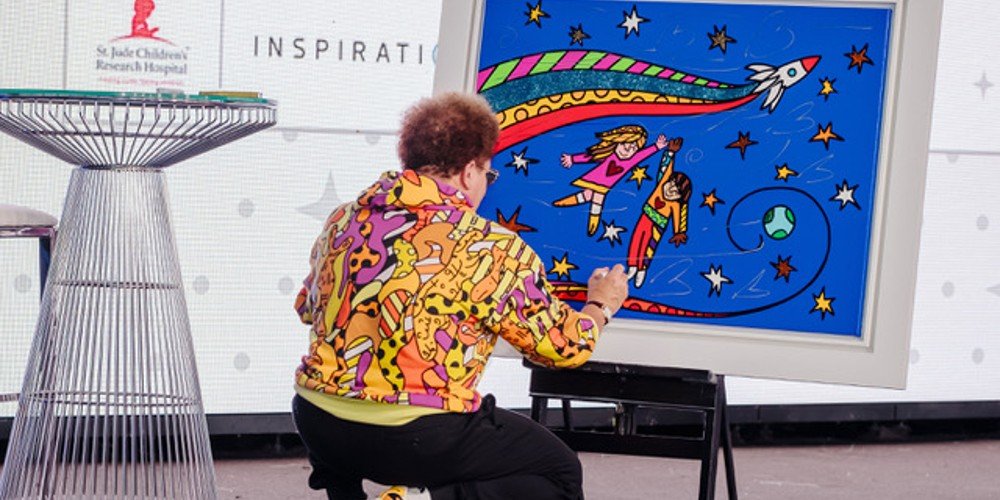 Britto's longtime commitment to supporting St. Jude traces back more than three decades. His artwork greets patients and families right as they step through the front doors of St. Jude, and his designs are featured on a variety of items with proceeds benefiting St. Jude. Because of supporters like Britto, families never receive a bill from St. Jude for treatment, travel, housing or food – because all a family should worry about is helping their child live.
Born in Brazil, Britto discovered his passion for art as a young child. Now living in Miami, his art is recognized globally. Described as "the most licensed artist in history," Britto is the founder of the Happy Art Movement, a "visual language of love, hope and happiness" that raises support for St. Jude and puts smiles on the faces of patients.
"It brings me great joy knowing my work is helping St. Jude Children's Research Hospital find cures to end childhood cancer and other life-threatening diseases," said Britto. "Anything I can do to help kids realize their dreams – I am all in."
Supporters can bid online on Inspiration4-themed auction packages launching from now to December, including an invitation to Britto's virtual art party, a fighter jet experience, items sent to space with the Inspiration4 crew, and more.