Superblue & Design Miami/ Basel Present New Installations by DRIFT & Sou Fujimoto
By: CultureOwl
|
09/17/2021
|
Visual Arts
Taking over the 2500 sqm Event Hall 1.0 at Design Miami/ Basel, Superblue, the new venture dedicated to producing, presenting and engaging audiences with experiential art, presents a multi-sensory experience featuring the Dutch artist duo DRIFT and a site-specific pavilion by Japanese architect Sou Fujimoto designed in response to DRIFT's installation.
Throughout the week, special programming presented in collaboration with Therme Mind activates the installations. The collaborative project reflects Superblue's mission to connect experiential artists with architects and other creative practitioners in pursuit of their most ambitious visions. The presentation marks Superblue's European debut and first collaboration with Design Miami/, following its global launch in Miami in May 2021.
Shy Synchrony is a poetic, upside-down landscape of moving Shylights that perpetually bloom in mid-air, inviting visitors to contemplate natural rhythms and their soothing effect on our state of being. The largest of DRIFT's Shylights installations to date, the site-specific exhibition fills Design Miami's massive entrance hall, providing visitors a moment of synchrony with their immediate surroundings. In a time that is defined by human isolation and a disconnect from nature, DRIFT's practice aims to address the need for a new alignment with our environment and a return to the strength of communal interaction has arisen. Shy Synchrony explores our innate response, individually and collectively, to natural movements, creating a deepened sense of awareness for the singular qualities of all environments we traverse.
Superblue also presents Forest of Space, an elliptical pavilion by architect Sou Fujimoto conceived in response to DRIFT's installation, which recreates a dynamic forest that intervenes in the space and with the movement of visitors. As audiences walk through this forest of long, vertical wooden pieces and experience the lights and organic movement of Shy Synchrony, the pavilion instills a reconnection with nature and highlights the interaction between viewers' bodies and their surroundings. Forest of Space encourages visitors to experiment with the spatial and social elements of the structure and engage in conversations about the past, present and future of architecture, urban settlements and the natural environment.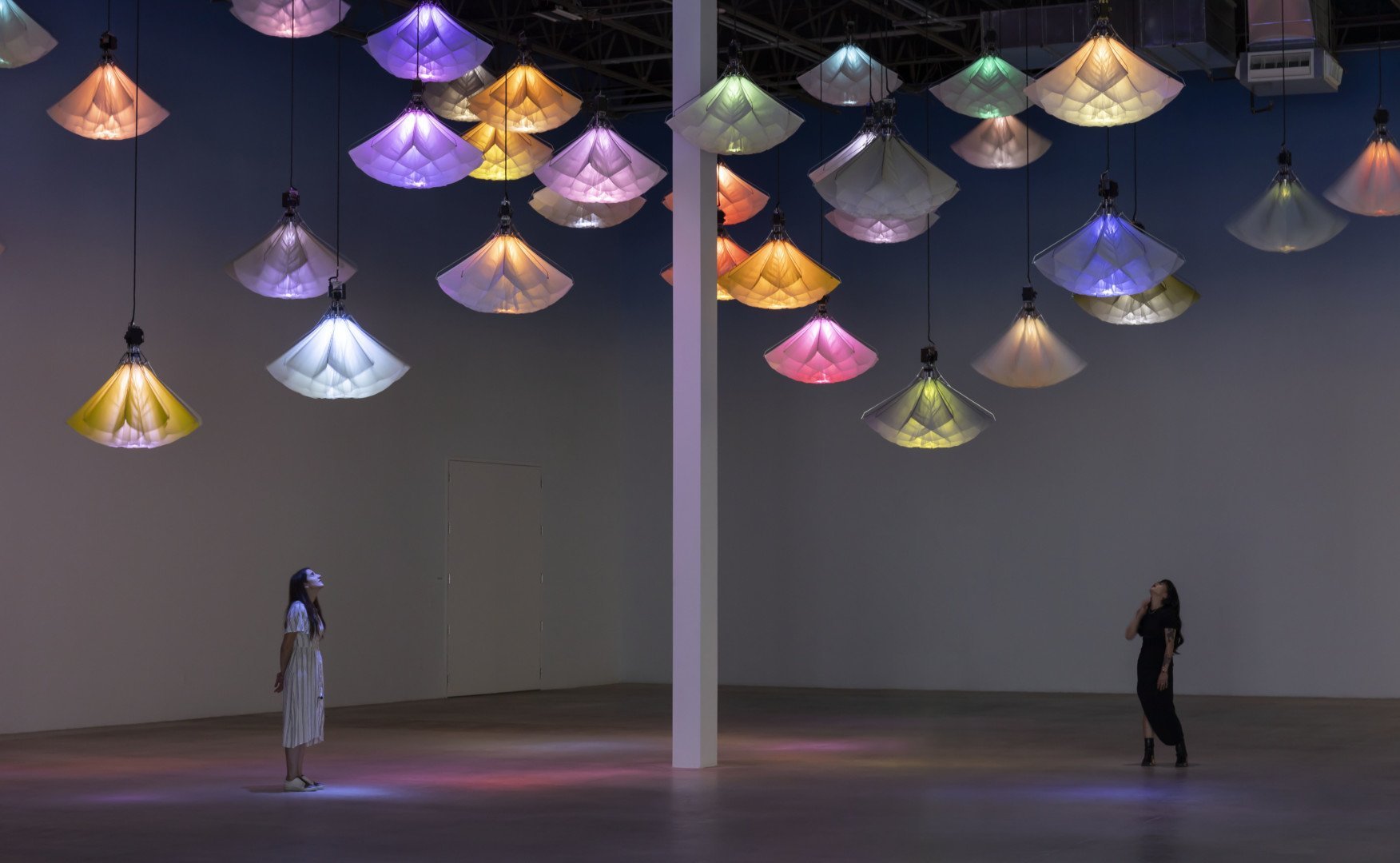 DRIFT, Meadow, 2017. Photo: Oriol Tarridas Photography
Collaborating on the activations for Shy Synchrony is Therme Mind, a joint venture between wellbeing leader Therme Group and neuroscience pioneer MindMaze, MindMaze's groundbreaking brain restoration and learning technology is adapted by MYND for application in architecture, design and art projects, to create digital, multi-sensorial solutions for mental and physical wellbeing. MYND uses neurotechnology to interact with users' mind-body functions and design responsive experiences based on biofeedback. In Shy Synchrony, MYND technology is used to correlate the movement of DRIFT's Shylights with visitors' neural and heart rate activity, leading them into deeper states of consciousness.
Offering a place of calm and congregation at the heart of the fair, a series of activations across the fields of science, meditation, music and architecture are offered in the space throughout the week. Programming includes:
Monday, 20 September
11am - Meditation Session with Franziska Kessler
4pm
Art, Architecture and Urban Context: Connectedness on a broader scale and as an essential facet of human health and nature
Speakers: Ben van Berkel, Lonneke Gordijn
Moderated by Oliva Sartogo
5pm - Meditation Session with Franziska Kessler
Tuesday, 21 September
1 – 2pm
In Perpetuity, Silicon Valley Superblue Art & Architecture project, San José
A living circular monument that moves in reaction to human presence, providing areas for community activation.
Speakers: Ben van Berkel, Nassia Inglessis
Moderated by Oliva Sartogo and Carlota Dochao
4 – 5pm
Sound & Architecture: Representing acoustic waveforms of a recording of the spoken word, urban context and architectural environment. Intangible Architecture.
Speakers: Carsten Nicolai, Louise Lemoine & Ila Bêka
Moderated by Oliva Sartogo
5pm - Meditation Session with Franziska Kessler
Wednesday, 22 September
11:00am – 12:30pm
Art & Architecture as Healing, Shaping a Mental Health
Co-Moderators: Hans Ulrich Obrist, Mikolaj Sekutowicz, Monilola Ilupeju
Speakers: Sumayya Vally, Tej Tadi, Lonneke Gordijn, Franziska Kessler, among others
5pm - Meditation Session with Mind In Studio
Thursday, 23 September
11am - Meditation Session with Mind In Studio
5pm - Meditation Session with Mind In Studio
Friday, 24 September
11am - Meditation Session with Mind In Studio
5pm - Meditation Session with Mind In Studio