NWSA's new initiative, "ARTS al fresco, a strolling experience" was a hit! Parents, alumni, friends and supporters of New World School of the Arts visited the Miami Dade College Wolfson Campus to enjoy an afternoon of captivating artistic offerings.
After a year of mostly virtual performances, concerts, exhibitions and events, New World School of the Arts sought to design a Dance, Music, Theater and Visual Arts showcase, akin to the school's popular annual signature event, Rising Stars. Mindful of the health safety measures that MDC has in place, namely Phase 2 level of the College's pandemic recovery plan, NWSA's ARTS al fresco featured ten separate performance spaces throughout the Wolfson Campus with over thirty artistic offerings, a visual arts exhibition and more than 100 participating students.
"Artists have an innate need to create and share art; it's an essential part of their lives," said Dr. Jeffrey Hodgson, Provost and CEO of New World School of the Arts.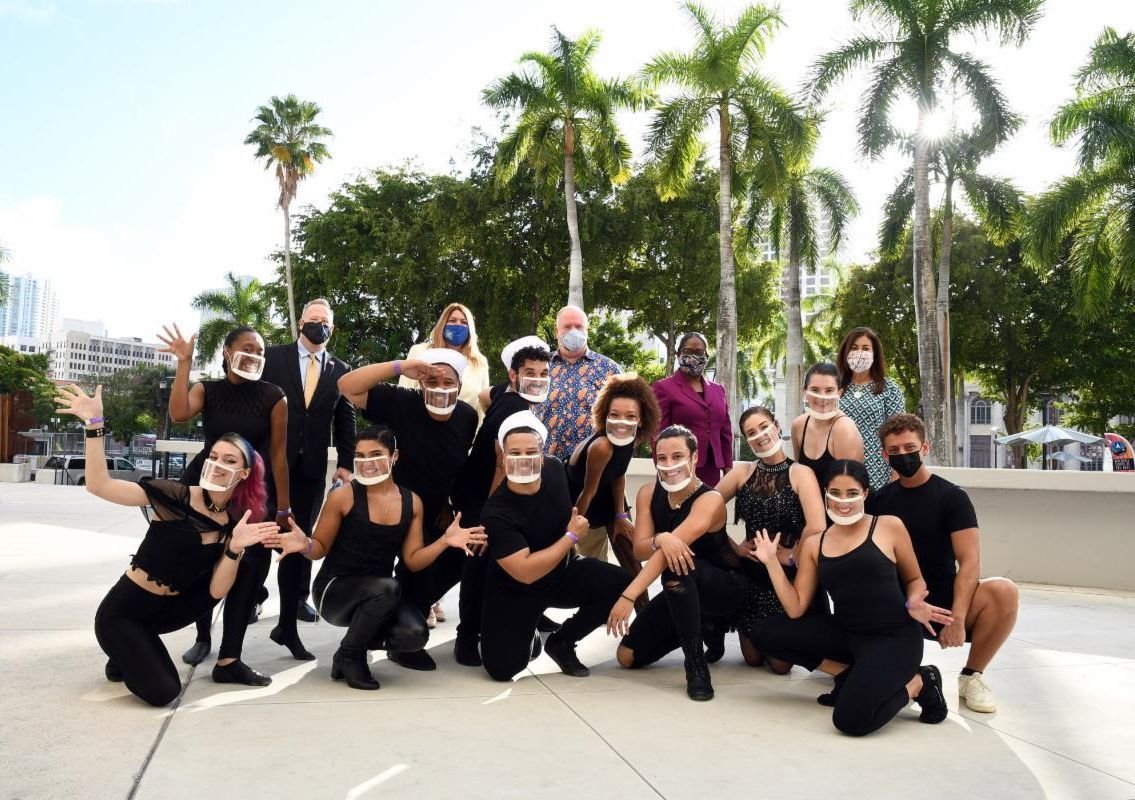 "As an educational institution dedicated to the arts, we recognize this in our students – creating art is what fuels their passion. Our mission was to offer an outlet for NWSA students to explore and showcase their artistry while being mindful of the limitations imposed by the current state of our nation. The open-air landscape of MDC's Wolfson Campus was the perfect backdrop for our first steps back into live performances after so many months of working separately and online. The students were energized to be performing and exhibiting and were buoyed by having real, live, in-person, cheering audiences. It was the kind of boost so many of us needed, to be together (safely distanced) and to feel connected by a shared artistic experience. It was a monumental day for our students and a most welcomed artistic treat for our community."
Some of the performances featured in the program included "UPHILL," an evocative choreography underscoring the struggles of pandemic-related isolation and "The Nile," choreographed by Peter London, an inspiring explosion of movement and color reminiscent of Ancient Egypt celebrations. "Magic to Do" shared the outdoors stage with "New York, New York," in alternating renditions of the popular musicals, Pippin and On the Town, respectively.
College student monologues, high school student playwrights and solo dancers sprinkled with some duets presented the audience with more intimate and poignant performances. There were strolling musicians that delighted the audience with their operatic voices and musicians who captivated and held the socially distanced crowds eager to enjoy the sounds of jazz, cello and wind instruments. On the south part of the campus, the New World Gallery was a coveted and well-attended exhibition space showcasing the work of more than two dozen young visual artists in DISCIPLINE: INTRA | MULTI | CROSS | INTER | TRAN.