Tweet
Meet HistoryMiami's New Artist-in-Residence
HistoryMiami Museum has announced their newest artist-in-residence, Rose Max & Ramatis! Rose Max & Ramatis is a music duo specializing in the popular Brazilian music styles of samba, bossa nova, and chorinho. Their residency will start in September and run through December.
Both born in Rio de Janeiro, Rose Max and Ramatis Moraes moved to the U.S. in 1993 and now call Miami Beach home. Rose, a singer and songwriter, comes from a long line of Brazilian music legends and now performs and records music around the world. Ramatis, an acousic guitar player, was born to a family of artists and became a successful songwriter, producer, and arranger. The duo has received various awards for Ramatis's work as a producer and musician and for Rose's vocal talents. Through performances and presentations, Rose Max & Ramatis share their passion for Brazilian culture and an appreciation for the mix of traditions that contribute to Brazil's rich musical history.
What is your name and where are you from?
A black and white photo of Rose and Ramatis posing with his guitarOur names are Rose Max and Ramatis Moraes. We were both born and raised in Rio de Janeiro, Brazil.
How did you come to live in Miami?
In 1993, we were invited to play at the first Brazilian restaurant in Miami called Ipanema Grill in Coral Gables. This restaurant hosted a big show about Brazilian culture with samba dance, capoeira (Brazilian martial art), and carnival from Rio de Janeiro, and we were part of the band that played in the show.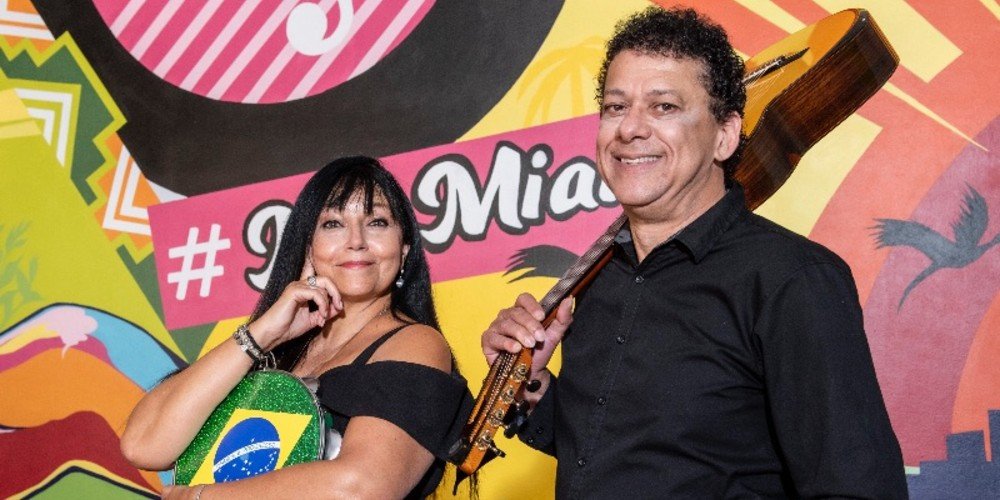 Tell me the story about how Rose Max & Ramatis began.
Rose started very young, singing professionally in the nightclub scene of Rio de Janeiro. Ramatis began classical guitar studies at the age of seven. At the age of twelve, he began performing professionally at local bars and nightclubs. We worked together in lots of bands in Rio de Janeiro, and then we moved to Miami in 1993 and started to perform as a duo, playing Brazilian music.
What music traditions does your duo perform? Tell us a bit about these traditions and their history.
We play the music that was created in Rio de Janeiro. We play choro (cry) which is a mix of European polkas and lundu. Lundu is African dance music performed by enslaved Africans in the streets of Rio de Janeiro with just percussion instruments.
We also play samba which is a mix of semba (a ritual music style from Africa) and European harmonies and melodies. Gafieira is samba ballroom dance played by big bands (like American jazz big bands) that play samba for dancing.
Bossa nova was created in Rio de Janeiro by Joao Gilberto, Tom Jobim, and other musicians. "Chega de Saudade" (No More Blues) was the first bossa nova song recorded in 1958. Bossa nova is a simple way to play samba mixed with jazz harmonies.
How did you learn these music traditions?
We learned by listening to radio stations and through the streets of Rio de Janeiro which were full of musicians playing choro, samba, and bossa nova!
Can you tell us about your family's influence on your musical development?
Rose Max is the great-granddaughter of the conductor Cupertino de Menezes and granddaughter of the guitar player Manuel de Menezes, both legends of early Brazilian music. She started singing very young and never stopped!
Ramatis began classical guitar studies at the age of seven, influenced by his mother who was an artist and singer and his father who was a director of plays in theatres.
What kinds of instruments do you use?
We use a 7 string classical guitar and two types of hand drums: pandeiro and tamborin.
How does Brazil's mix of traditions and cultural groups contribute to the country's rich musical history?
Brazilian popular music is a mix of European harmonies and melodies and African percussion rhythms. That fusion of styles brought a unique sound to Brazilian music.
What do you value most about performing Brazilian music?
The beautiful melodies and the peace that Brazilian music like bossa nova brings, and the happiness and energy of samba!
Is there anything else you would like to share?
We always try to take audiences on a trip to the beaches, mountains, streets, and bars of Rio de Janeiro without leaving the room with our music performances!
For more information, visit www.historymiami.com.