SCOPE MIAMI'S RECORD BREAKING 20TH ANNIVERSARY EDITION
By: CultureOwl
|
12/16/2021
|
Festivals
Miami Art Week came and went! On Tuesday, November 30, 2021, over 20,000 guests filled the SCOPE Miami Beach Pavilion as its 20th anniversary edition opened to huge crowds. Vibrant installations from New Contemporary artists Nychos, ThankYouX and HOTTEA were cast against a serene ocean backdrop, while VIPs enjoyed champagne from Pommery and wine spritzers from Coastal.
Reporting over 100,000 visitors throughout the week, SCOPE continuously reached capacity with lines stretching across the beach and over the dunes. Visitors entered through a massive graffiti cave by Peruvian street artist ENTES to gain access to the show. They were quickly surrounded by monumental site-specific installations; from a 30,000-square-foot drawing on the beach by Saype, to the ephemeral and experiential work of Rashid Al Khalifa, Mister E, Butch Anthony, SuperChief NFT and JonOne.
Morning fairgoers were invited to take part in meditation and yoga programming; afternoons hosted a series of erudite talks, and as the sun went down, The New Contemporary transformed into Art Week's newest nightlife attraction with performances by DJ WhiteShadow, Masego and more.
EXHIBITOR HIGHLIGHTS
THE NEW CONTEMPORARY
Exhibitors were ecstatic as the pace of sales consistently grew. Haven Gallery found great success at this year's edition with Kukula and Naoto Hattori. Gallery Owner and Director Erica Berkowitz reflects, "SCOPE's celebration of the New Contemporary art movement has resulted in a dynamic and culturally relevant platform for emerging and established artists of this genre. Through this support, we have noticed stronger connections and sales for our artists and the overall propulsion of the movement."
Tokyo International Gallery at SCOPE Miami Beach 2021
Mirus Gallery, a founding New Contemporary gallery, placed a record-breaking 20 works. Mirus owner, Paul Herming reflects, "Our tenth year in Miami was our most successful to date, and it has been amazing to grow and contribute to the SCOPE family over the past decade." Mirus Gallery had its most profitable SCOPE Art Show to date, surpassing past sales figures and seeing near sold-out work by Nychos, Chevrier, Hueman and Demsky.
NEW + RETURNING
New to SCOPE Art Show, 193 Gallery completely sold out their booth with artists Alia Ali and Thandiwe Muriu leading the charge. Owner César remarked, "SCOPE is our first North American show and most successful show, we met top connoisseurs, major collectors, first-timers, and locals equally." Another newcomer, Tokyo International Gallery enthused "The reaction of Japanese artists in the west was incredible, with both our featured artists, Kotao Tomozawa and Michael Ho having sold out within the first few days. We would like to come back again."
SCOPE also welcomed Fabien Castanier Gallery to the show, which placed a significant amount of art and enthused, "Everyday we sell more than the day before. I'm impressed with the quality of collectors and by SCOPE's professionalism." SCOPE was also pleased to welcome back ARTE GLOBALE, which sold out their booth of Yener Torun's colorful photographs and Domenico Ludovico sculptures. Gallery Director Maria Teresa Sacchi remarked, "SCOPE Miami Beach is an unmissable art fair during Art Basel Miami...the best show in town for truly authentic emerging artists."
193 Gallery at SCOPE Miami Beach 2021
Taglialatella Galleries Partner Brian Swarts praised, "SCOPE Art Show has been extraordinary for our gallery this year; we've placed in excess of two million dollars worth of art, met new collectors, and the fair is getting bigger and busier each year. The quality of visitors has helped us achieve our highest sales record in years." Vertical Gallery, who completely sold out their booth on opening day, remarked, "The curatorial review by SCOPE founder Alexis Hubshman and team is museum standard...It takes a good eye to discover great artists and a vision to give them a platform for growth."
New to the show this year was a contingent of NFT galleries, which leaned into SCOPE's tech-forward initiative with stellar exhibitions of emerging and established artists alike. As the keystone of the New Contemporary installation, Superchief presented a massive 71-piece installation of flat screens that cycled through multiple world-class curations for the duration of the show, while SuperRare, HyperCube and Hashmasks held down the exhibition floor with booths featuring metaverse artists. HyperCube explained the value of proof of authenticity associated with NFT artwork, "NFTs are a new technology that provides the evidence of ownership in a digital life, this is why this market has grown so much and continues to grow."
Guests and exhibitors alike praised curatorial leaps of faith at SCOPE this year with projects like J Shia's crowd favorite Motorcycle installation, made up of three hand-made motorcycles; with one selling to an avid collector of motorcycles. Also reporting strong sales were Chic Evolution in Art, Roman Fine Art, DG Gallery, Galleri Ramfjord and Wolf & Nomad, who almost sold out their entire booth of Simon Vargas and Mariel Lebrija works.
PROGRAMMING
THE NEW CONTEMPORARY PRESENTS
New to the SCOPE pavilion this year was The New Contemporary, an experiential multidisciplinary program located in our expanded Atrium.
The New Contemporary presented daily programming featuring large scale installations, music performances and panel discussions during the day, while continuing our long-standing commitment to wellness. Guests were encouraged to attend morning healing programming and guided meditation against the backdrop of beautiful South Beach. This multi-day destination transformed after hours to a premium nightlife experience and featured world-class musical talent.
Environmental artist Saype, created a 30,000 square feet fresco on the beach in front of the SCOPE pavilion. Saype is known for his monumental fresco work on organic surfaces on the ground, and used his own unique and eco-friendly paint composed of charcoal and chalk for the piece.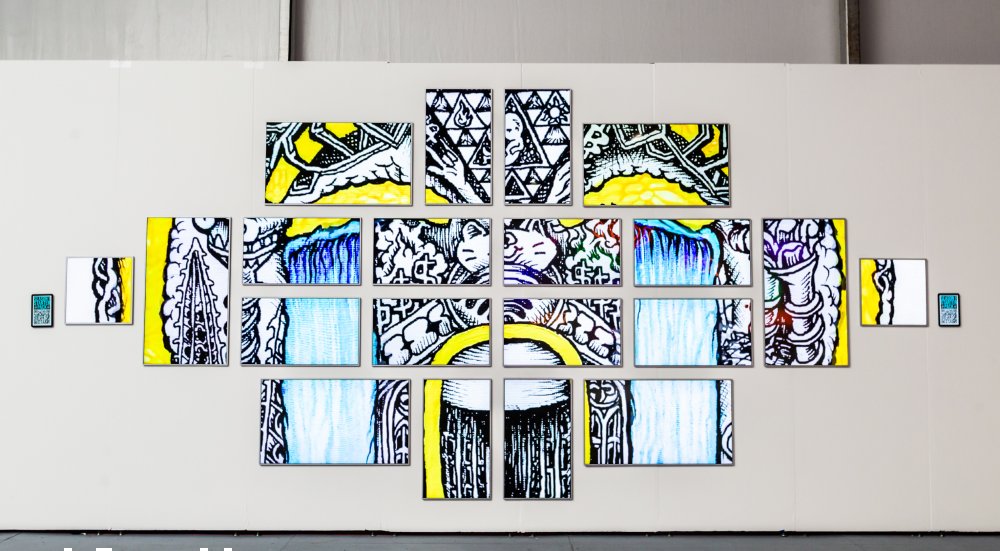 Superchief Gallery NFT Wall | Detail
For SCOPE Miami Beach's 20th Anniversary, ENTES, the street art mainstay, transformed SCOPE's front entrance pavilion into a colorful portrait of Peru presented as a monumental foam sculpture. The surface was created by using his unique mural transfers replicated through a technique called Strappo. After walking through ENTES' cave-like structure, guests were greeted by a 25-foot-long and 12-foot-high mural of a dissected Star Wars character. By the means of anatomy, Nychos investigates the living species across different contexts and different media. His favorite tool is the spray can and he loves large-format work.
mister e's site specific installation,"100" brought his first NFT to life, welcoming visitors to experience a digital work in the physical world. The work was mister e's debut NFT release.
Superchief Gallery NFT collaborated with the WHIM team to design and present a revolutionary installation for NFT Artwork that stole the show. Co-Founder, Ed Zipco said "This year's SCOPE art fair was a dream, easily our favorite to date. 2021 was a year of re-introductions after Covid, an opportunity to define who we are at SUPERCHIEF and what we believe in. Our jaw dropping 66ft wide NFT installation with our display partners WHIM was focused on our shared present as we step into early future- it was an honor to present a unified vision that includes both the physical & digital while speaking to our culture of global underground art communities, defining who we were, are and will be. The team at SCOPE are incredible, kind and professional- empowering us to realize multiple larger than life visions for this year's over 100,000 attendees."
SCOPE Art Show partnered with digital marketplace YellowHeart to create a first of its kind blockchain ticketing solution featuring a diverse curation of innovative NFT minted Platinum and General VIP tickets. Minted tickets will feature unique artwork celebrating SCOPE's New Contemporary program, presenting artists that define our cultural landscape across a variety of creative disciplines.
Acclaimed street artist HOTTEA created a brightly colored yarn that soared 30 feet high to create a larger than life hanging installation. The piece graced the center of The New Contemporary Atrium and was viewable from all parts of the show.
The Rashid Al Khalifa installation, reminiscent of a computer-generated architectural model, appeared like a sculptural blueprint, hovering in space and floating in time as viewers inspected this architectural apparition from every angle. Derek Gores recycled magazines, maps and data graced The New Contemporary bar with a lush collage piece.
Butch Anthony's featured work "Bone Quilt" was one of the most talked about pieces at the show. Butch Anthony started creating art using various media and techniques, crafting them into one-of-a-kind masterpieces. Throughout his career, the artist has coined a specific genre of work he calls "Intertwanglelism." Also in The New Contemporary atrium, artist JonOne created an action painting on stage for the Platinum Preview opening.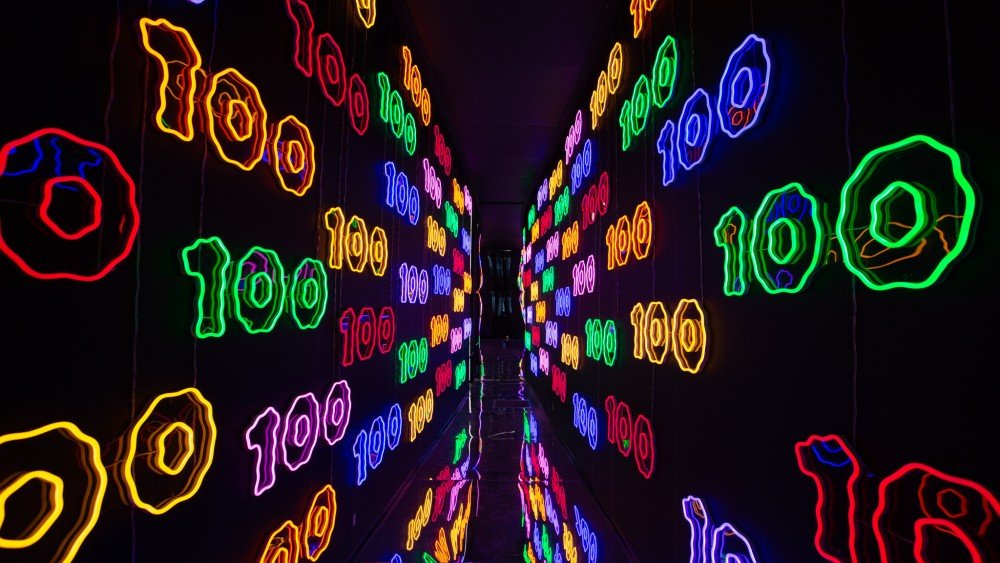 mister e, "100" | Installation View
Following the record-breaking success of its 20th anniversary show, SCOPE Miami Beach will return to its iconic location on the sands of Miami Beach, nestled amongst the iconic architecture of Ocean Drive at 8th Street with a focus on The New Contemporary. With stunning views of the ocean, SCOPE's extraordinary selection of contemporary art from 140 international exhibitors will be presented alongside museum-quality installations, panel discussions, and nightlife events.
President and Founder Alexis Hubshman reflects, "Over the last twenty years, I've had a front row seat as the art world has transformed under the rise of the art fair. From scrappy upstart to creative R&D, SCOPE has played many defining roles in this reconfiguration of the gatekeeper. Much has come full circle in the past two decades since we started the original satellite art fair, and I am proud that SCOPE remains an incubator for new voices and a place that gives artists the opportunity to take risks."
SCOPE Miami Beach opens November 29th for its Platinum First View and VIP + Press Previews, and the show will be open to the public November 30 -December 4th.